VALE TOPICS
Official Organ of The Streatham Vale Property Occupiers' Association

(Some Extracts from the magazine)

---
Some two months or so ago Lambeth Highways Department imposed a new restriction on the single yellow line adjacent to the Village Card Shop in Glenister Park Road. This resulted in an increased level of activity in the road by Control Plus, the parking contractor now employed by Lambeth Council. The official records of Lambeth Parking Services show that in February alone 34 parking tickets were issued in Glenister. A quite ludicrous number for a residential road.

The effect of this has been to unfairly penalise the customers of The Village Card Shop, the Chinese takeaway and Londis the grocers. Members will be well aware of the difficulties that were experienced in the Vale with APCOA the previous parking contractors whose contract was not renewed by Lambeth Parking Services and it was hoped that Control Plus would patrol the area with a little less heavy handed approach than their predecessors. Sadly this has proved not to be the case and the Association has now received many complaints from enraged residents who have received £40.00 parking tickets for minor infringements of the parking control.

Following the opening of a petition by the above shops which was sent to Lambeth Parking Services and an article in the South London Press and The Post, a site meeting was held between the shop owners, Lambeth Parking Services, Lambeth Highways Department and the Association in which it was agreed that marked parking bays will be installed in Glenister Park Road at the junction with Streatham Vale and the parking restriction changed to 20 minutes stay. No return for two hours.'

Consideration will also be given to the removal or relaxation of the double yellow line recently imposed in Streatham Vale at the front of these shops. At the above meeting Lambeth Council conceded the Association's argument that the area needs successful local businesses which should not be forced to lose custom through the excessive imposition of parking controls.

The Association would like to thank Leo Ward, the Parking Services Manager for Lambeth Council for taking prompt action to rectify this situation and to our local Councillor John Kazantzis for his assistance in the matter.

PAUL CHESTERMAN
ENVIRONMENTAL COMMITTEE

TOPÙ

---
For some time now the Association has been concerned about the condition of many of the road drains in the Vale. These are often referred to as 'gullies' but this is misleading since it suggests that the term refers to the channels where the road joins the kerb. The problem lies in the drains into which the gullies feed. The drains affected are those where there is a small manhole cover set into the pavement adjacent to the grid in the road, where investigations have shown that the drain shaft is positioned midway between the grid and the manhole under the granite kerbstone.

The cleaning equipment used by Lambeth Council is fitted with an inflexible metal pipe which is unable to negotiate the curve in these drains and therefore cannot remove the build up of accumulated debris. In some extreme cases the entire drain is filled with silt in which grass and weeds have actually taken root. The effect of a severe downpour of rain would, in the roads affected, result in flooding.

The roads which so far have been identified, where some or all of the drains are of this type, include Runnymede Crescent, Granton, Farmhouse, Broadview, Abercairn and Larbet Roads. There are probably others.

The Streatham Area Committee of Lambeth Council have stated that as this problem is not widespread in the Borough there is no need to purchase specialist equipment and have given assurances that these drains will be cleaned by hand. However, having witnessed attempts by the drain engineers to do this it is evident that the hand tools provided by the Council are not able to clear the drains and attempts to do so may actually be damaging the drain shafts.

The Association in conjunction with our local Councillors will continue to press for adequate cleaning equipment to be provided by the Council. However, in the meantime it would be appreciated if residents could inform me or any other committee member if they come across similar drains in roads not mentioned above.

PAUL CHESTERMAN
ENVIRONMENTAL COMMITTEE

TOPÙ

---
There has been a spate of garden shed robberies in Streatham involving the theft of mountain bikes and power tools. In order to minimize the risk of this happening to you please:
Ensure your garden shed is locked.

Any power tools are kept and locked in strong boxes.

Mountain bikes are locked/covered as to avoid detection.
SUSAN DORAN
COMMUNITY SAFETY OFFICER (STREATHAM)

TOPÙ

---
HEALTH PROVISION IN STREATHAM VALE
The first meeting of the joint steering committee of the Association and the Primary Care Trust was held on 19 may in the Holy Redeemer Church. The meeting was well attended by officers of the Association, Vale residents, Dave Malley one of our Councillors and representatives of the PCT.

The meeting decided:
That the Committee should be chaired by Bob Barson and that the composition of the Committee should include three Association Officers, four local residents who are also enrolled as patients at the existing Drakewood Road surgery, a Lambeth Councillor, our local Pharmacist, a GP from the Drakewood Road surgery and officers of the PCT.

That the terms of reference would be ' A primary Care Service that meets the needs of the people of Streatham Vale'

It was agreed that the PCT would continue to seek a suitable site for the establishment of a new health clinic to replace the existing surgery in Drakewood Road which will eventually close after the new health centre in Baldry Gardens opens.

It was agreed that the PCT would put forward proposals for future health service provision in Streatham vale in the form of a paper which will be discussed at the next Steering Committee meeting which has been set for 30 June.

The Association is recognises that the overwhelming opinion of residents is that a fully functioning GP surgery should remain in the Vale and that remains the policy of the Association supported by our local Councillors.

It also welcomes the undertaking by the PCT to keep open the Drakewood Road surgery at least until the new health clinic at Baldry Gardens opens in a few years time and the intention of the PCT to provide ancilliary health provision locally in the Vale.

PAUL CHESTERMAN
ENVIRONMENTAL COMMITTEE

TOPÙ

---

UNWANTED SALESMEN AND ROGUE BUILDERS

(received in April with thanks and apologies for the late print)
Although door to door salesmen, especially double glazing ones, are always a nuisance I never paid much attention to them. However, recently they are getting from bad to worse. I live on my own and am a sufferer of depression. I do not open my door to anyone without first looking out of the window. Unfortunately, I cannot lock my porch as it is broken. On numerous occasions I spoke to the salesmen from my window informing them that I was not interested in anything they were selling. On one occasion one swore at me (including the 'f' word) and hurled racial abuse as well. This, as you can imagine, left me very distressed. Further down the street one of them picked up a pebble and hit a fragile passerby.

I would like to ask the residents of the Vale whether they have experienced this sort of or similar behaviour. If so, would they please write in support of my article so that in due course this despicable behaviour would cease.

However, things are not all bad as I was pleased to read about the men who came to another resident's aid when she fell.

Anon

TOPÙ

---

PARKING: GLENISTER PARK ROAD AND SHERWOOD AVENUE
Readers will recall the article in the April edition of Vale Topics concerning the problems caused by Control Plus, Lambeth council's parking contractors issuing no less than 34 parking tickets to the customers of the Village Card Shop, the Chinese Takeaway and Londis, the Grocers. At the time we believed that assurances given to us by senior Council officials that parking bays would be installed at the Glenister/Vale junction would be honoured by the Highways Department.

Imagine, therefore, our dismay when it transpired that under the Temporary Traffic Orders obtained by the Council for the implementation of the new bus lane the parking bays were designated for loading only. Fine for the shopkeepers to unload in but useless for their customers. It looked as if we were almost back to square one. Nevertheless after further representations made to the Streatham Area Committee under the Chairmanship of Cllr Julian Heather and a question to a meeting of the full Council put by Cllr Kazantzis, Lambeth Council Highways Department did a final 'about turn' and the bays were installed in the middle of July. These will be controlled on the basis of 30 mins. Stay, No return for two hours.

As a result of our success in Glenister and the loss of some parking at the front of the shops adjacent to Sherwood Avenue caused by the bus stop being moved, the Association in conjunction with Cllr Dave Malley has applied to Lambeth Highways Department for similar parking spaces to be installed in Sherwood Avenue. Having regard to our experiences in Glenister it is by no means certain that we will get these; however it is hoped that proper parking bays here will alleviate parking problems for shoppers to all the shops in the Vale on both sides of Sherwood Avenue.

PAUL CHESTERMAN
ENVIRONMENTAL COMMITTEE

TOPÙ

---

CERTIFICATES OF LAWFUL DEVELOPMENT AND THE PARTY WALL ACT 1996
In the April Edition of Vale Topics I wrote an article concerning flat conversions however I have received a number of complaints about loft conversions, usually but not exclusively, by developers. These may be part of an attempt to convert a house into two flats or to provide an additional bathroom and bedroom in the loft space.

Legally the position regarding this work is that where an extension [which can also be a ground floor rear extension] is undertaken and the floor area is 500sq ft or less, the applicant can apply to the Planning Authority [in our case Lambeth Planning] for a Certificate of Lawful Development under the Town and Country planning Act 1990. Provided the application is technically acceptable and does not contravene the Planning Regulations in any other way, the applicant has a legal right to extend the property and Lambeth Planning will issue a certificate. In doing so however Lambeth Planning have told me that as the houses in the Vale fall into 'Class B' of the Act they are not required to consider the external appearance of the extension either in the context of the house or the terrace as a whole. The law regarding the issue of these certificates is contained in:-

Statutory Instrument 1995 No. 418 The Town and Country Planning (General Permitted Development) Order 1995 and Statutory Instrument 2001 No. 2718 The Town and Country Planning (General Permitted Development) (Amendment) (England) Order 2001 available from HM Stationary Office or online at: http://www.legislation.hmso.gov.uk/si/si1995/Uksi_19950418_en_4.htm and http://www.legislation.hmso.gov.uk/si/si2001/20012718.htm respectively.

The construction of a roof extension will in all cases involve the installation of steel joists to take the weight of the extension and these are attached to the party walls between the houses on either side by the insertion of a masonry 'pad' into the brick work on which the steelwork is positioned. As this is an invasion of the party wall the person undertaking the work has a duty under the Party Wall Act to inform the property holders on either side of the work to be undertaken. Where the work is to be done by long term neighbours owning the property it is likely that the owners of the adjacent houses will be informed and will be able to reach an informal agreement or understanding on the work being done. I would suggest that in these cases it should be established whether the extension is being done under the supervision of a building professional such as a surveyor or structural engineer, that the builder engaged to do the work is reputable and capable of undertaking the work and that you are satisfied of the arrangements being made. If you are not satisfied it is open to you to consult a surveyor or other building professional to assist you to take out a Party Wall Agreement under the Act to safeguard your property. [Please note that very minor work such as small holes for wall cupboards or to insert electrical boxes for switches does not fall within the scope of the Act.]

It may be however that the house next door has been sold or empty for some time and that the person or company that is to undertake the work will not reside there after the work is completed. In this case you may have no prior warning that extension work is to be carried out as the Planning Authority have no legal duty to consult local interested parties where a Certificate of :Lawful Development has been applied for or granted. Neither is there an absolute requirement on an applicant to obtain a certificate before work, particularly consequential alterations inside the house, are carried out.

[This is different from the case of a full planning application where the Planning Authority has a legal duty to consult the owners of adjacent properties and planning notices will have been displayed in a prominent place outside the property giving adjacent householders an opportunity to lodge objections within a stated time period if they choose to do so before any work commences.]

Notwithstanding the fact that the duty of an applicant under the Party Wall Act is the same in all cases, examples have recently occurred in Streatham Vale of work being started by developers with no prior consultation with adjacent home owners by builders who move in and within the space of a single day, put up scaffolding and remove the rear tiles and roof joists. In these cases the owners of adjacent houses, most of whom are unaware of the duty on developers and builders under the Party Wall Act have had no time to consider their position and have experienced problems including actual damage to the party wall. Under the Party Wall Act your costs in engaging a surveyor will be assessed by your surveyor and in the majority of cases will be charged to the person or company undertaking the work.

In the space available here I can only attempt to briefly summarise the salient points of the Party Wall Act as it applies to loft conversions, however for those requiring full information a Guide to the Act can be obtained from The Office of the Deputy Prime Minister or downloaded from the ODPM website in Adobe pdf format at http://www.safety.odpm.gov.uk/bregs/walls.htm. Click on 'Building Regulations'

This covers the full scope of the Act and contains specimen letters and other helpful information. A printed copy of the Guide can be obtained from ODPM Free Literature PO Box 236 Wetherby West Yorkshire LS23 7NB Tel: 0870 1226 236. The Act itself can also be found online at http://www.hmso.gov.uk/acts/acts1996/1996040.htm or can be purchased from HM Stationary Office price £4.50

If you want to know whether a Certificate of Lawful Development has been applied for or granted in respect of any property in Lambeth you may telephone Lambeth Planning on 020 7926 1180 or write to Les Brown Assistant Director of Planning Acre House, 10 Acre Lane, London SW2 5LL. The Association is interested to receive information about problems experienced in connection with extensions undertaken under Certificates of Lawful Development. Please email the Association at [email protected] or write to me at 21 Runnymede Crescent.

Remember the Party Wall between your house and the adjoining property is a vital part of your property and you are able to decide whether or not to exercise your rights to object to it being cut into in all the circumstances outlined in the Party Wall Act 1996.

PAUL CHESTERMAN
ENVIRONMENTAL COMMITTEE

TOPÙ

---
Recently both Don Feesey and Simon Hooberman have written in Vale Topics about the futility of the 20mph speed limit imposed on the Vale. Suffice it to say the Environmental Committee of the Association is completely opposed to this unenforceable, money – wasting scheme which will have no discernable benefit to local residents whatsoever.

There remains however the problem of motorists who, faced with the prospect of long queues of cars stuck in the one lane left open to them between 7am and 10am by the operation of the bus lane in the Vale, simply turn down Fieldend or Churchmore Roads, left into Helmsdale and then right into Sherwood to enable them to use the railway arch in Glencairn Road to access the A23. This is also exacerbated by the large number of cars which drive into the Vale by means of Bishops Park Road, turn along Woodmansterne to the junction with Sherwood and then round the blind bend in Sherwood to converge on the Glencairn Junction. Between 4.30pm and 6.30 pm in the evening this process is reversed. To this we must add the problem of motorists who follow this route in reverse at both peak periods.

These motorists pay no regard to the 20mph limit but drive at alarming speeds through the Vale, presumably on their way to and from work. I accept that some motorists follow other routes through the Vale, and whatever preventative measures are taken motorists will always find a way round. Nevertheless in an attempt to make the target of most of these cars less attractive, the Association, in conjunction with our Councillors, have asked Lambeth Highways Department to look at the feasibility of trialing a single lane priority traffic filter under the Glencairn Road railway arch. This creates a single lane 'gate' through which only one car can pass at a time. It is hoped that this will reduce the volume of cars cutting through the vale at peak periods. If anyone wishes to see the operation of a single lane priority traffic filter in action, there is one in Colebrooke Road which connects Bishops Park Road with Stanford Road.

I accept that there will be some Vale residents who use Glencairn Road, as I do myself, but I do not expect there will be any problems outside the morning and evening peak periods and even then the volume of traffic will be reduced there and

throughout the vale. I do not claim that this will be a universal panacea to the problem of rat running in the Vale but the alternative is to do nothing and allow the problems to increase year on year.

If you have any observations on this proposal please email me at [email protected] or write to me at 21 Runnymede Crescent.

PAUL CHESTERMAN
ENVIRONMENTAL COMMITTEE

TOPÙ

---

FLAT CONVERSIONS: THE NEW THREAT FACING THE VALE
As many members will already know, the Association has an understanding with the Planning Department of Lambeth Council whereby all planning applications submitted are notified to the Association.

In the majority of applications for alterations such as pavement crossovers and reasonably sized conservatory or roof conversions the Association takes no action. However in the last two years or so we have been presented with many applications which we considered to adversely affect the area and in these cases we have opposed planning permission.

There are at present a number of applications awaiting planning decisions which we consider not to be in best interests of Streatham Vale as a family housing area. These are applications to convert houses into two self contained flats in mid terrace and end of terrace houses and even to convert end of terrace houses into three flats. Where planning applications for this type of conversion are notified to the Association we will submit representations objecting to the proposal. However there is now a growing tendency for conversion work to begin before a planning application is even made. In these cases the only way the Association is made aware of these conversions is if a member informs us.

Where a planning application is made the owners of adjacent properties should receive a letter from Lambeth Planning giving details of the proposal and a planning notice should be put up by the Council in a prominent place outside the property. Plans of the proposed conversion should also be available at Streatham Library or at the Lambeth Council Planning Department in Acre Lane. Both notices will give a date by which representations must be received. If you wish to make representations but are uncertain how to proceed the Association will always give advice and assistance. However points to consider are whether the conversion will adversely affect your natural daylight, will by reason of its size and bulk reduce the amenity value of your home, will adversely affect the party wall between the properties, or will add to any parking problems in the road by creating further households in an already crowded area. In particular cases there may be other issues which can be put forward.

If building conversion work commences on a property adjacent to your house and you have not already received a notification from Lambeth Planning that an application has been made and you are concerned about the work which is being undertaken, you can do one or more of the following:

1. Contact the Association by email. At [email protected] or write to me at 21 Runnymede Crescent.

2. Write to one of our local Councillors, Tim Sargeant, Dave Malley or John Kazantzis

3. Write to Les Brown Assistant Director of Planning, Acre House ,10 Acre Lane, London, SW2 5LL or telephone Lambeth Planning on 020 7926 1180.

Remember all personal cases are treated in confidence by the Association and your name will not be divulged to any third party without your express permission.

PAUL CHESTERMAN
ENVIRONMENTAL COMMITTEE

TOPÙ

---

NEWS FROM DRAKEWOOD ROAD SURGERY
Dr Cartwright and Dr Lidgey have now been working permanently at Drakewood Road for about sixteen months, although many people met Dr Lidgey prior to this when he acted as a locum for Dr Keapock following her retirement.

We recently heard the sad news that Dr Sadek has passed away and wish to inform those who are not aware. He was well respected and will be missed by his patients.

We are registering new patients all the time, with our list currently growing and services expanding. Our part-time nurse Manel is due to become full time (from 1st December ), enabling us to provide better services for our patients. This will include treating common conditions such as diabetes and heart disease.

We now have three rooms where patients are seen, and everywhere has had a lick of paint. However, due to hold ups with the planning permission, the extension planned for the back of the building has been delayed. Our current waiting area is far too small with space for only 8 patients to sit - this leads to overcrowding, spreading of germs and often buggies fill our narrow hall way creating a safety hazard. During the summer months many patients chose to wait on the front drive way but clearly during the winter months this isn't an option! We hope that planning will be granted soon and that the Primary Care Trust who own Drakewood will get the builders on site as soon as possible and put up the extension which will house reception allowing the current reception area to become our waiting room and provide an all important downstairs loo instead of the single upstairs loo we currently have for patients and staff (which also doubles as store room!).

Clearly Drakewood is too small and old-fashioned for modern day general practice. The Primary Care Trust has been looking to develop new premises to re-locate Drakewood for a number of years now. Our practice area for registering new patients continues to run from the top end of Streatham Common to the bottom of the Vale (see map). We do have patients who were registered with the previous GPs living in Streatham but not within our catchment area. For such a small practice we cover quite a large area. We need premises within our catchhment area that allow for an increased number of patients and health care professionals such as extra doctors and nurses. We would also like to accommodate other professionals such as counsellors and phlebotomists (blood takers). We need room to be able to provide for the training of staff including trainee GPs and space for our community colleagues such as District Nurses, Health Visitors and Psychiatric nurses who work closely with us.

Map showing catchment area of Drakewood Road Surgery

<![if !vml]>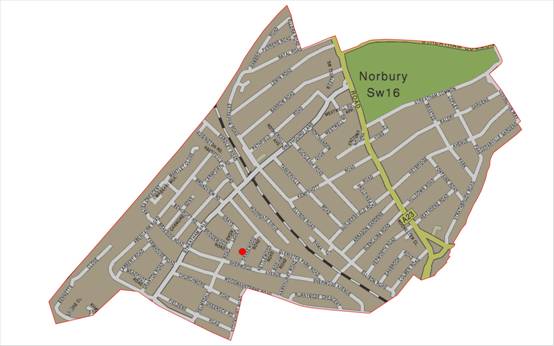 <![endif]>
There have been problems finding a suitable site big enough for this kind of development within our practice area. Baldry Gardens Health Centre is due to be rebuilt and would provide us with the kind of space we need to develop. Some of our patients who live near to our current premises wish to see us remain at the Vale. We recently asked a small but random sample of our patients for their views and, as expected, there is a division of opinion and a lot of misinformation around. The results of this survey will be displayed in our waiting room for our patients to view.

The PCT are currently renewing the search for a suitable site in the Vale. We had hoped that the final decision would be reached during November, but it appears that this may drag on into the New Year. Wherever we re-locate some of our patients will be nearer than others and we understand the strong desire of some of our patients that a service remains in the Vale. We welcome our patients' views and hope that they remain supportive of us during our current difficulties with cramped premises and also with our decision about new premises when we make it. We do hope that we can all agree plans for the future as soon as possible before Drakewood bursts at the seams!

Dr Cartwright
Dr Lidgey

TOPÙ

---

RUBBISH COLLECTION IN THE VALE
It has been brought to my attention that once again dustbins are not being fully emptied by the dustmen serving the Vale.

What appears to be happening is that in the houses where the householders put all or part of the refuse in black bin bags inside the bin, the dustmen reach down to remove the bag, sometimes only the top bag at that, leaving the remainder of the rubbish in the bottom of the bin.

The Council have been asked to ensure that the cleansing contractor should issue instructions to staff that bins should be taken to the dustcart and
emptied in the prescribed fashion using the hoist and our Councillors have also been informed. My predecessor Simon Hooberman used to receive complaints about the practices of the dustmen but since I have taken over last January these are the first complaints to come my way.

This article will appear in Vale Topics and on our website in the New Year to establish just how widespread these practices have become. If you are experiencing difficulties of this kind, please email me at the usual address or write to me 21 Runnymede Crescent

Paul Chesterman
Environmental Committee

TOPÙ

---

NOTICE OF CARRIAGEWAY RE-SURFACING
THE OWNER/OCCUPIER

ROAD NAME: STREATHAM VALE ROUNDABOUT

START DATE: 10th January 2005 Duration – 2days

I write to inform you that the council's contractor will commence re-surfacing Streatham Vale Roundabout on the above date, weather permitting.

I accept that these works will cause you some inconvenience. However, it is hoped that you will appreciate the need for these essential maintenance works and accept any short term inconvenience in favour of the long term enhancement to your local environment.

Parking will be suspended and this road may be temporarily closed in order for the contractor to carry out the site operations. If you have any special needs, like access for handicapped persons or for deliveries etc, please feel free to contact me on the above telephone number, and I will make every effort to accommodate your needs.

Please note that the council's contractor will re-locate all obstructing vehicles to adjacent roads.

Thanking you in advance for your co-operation.
Yours faithfully,
Ridha Alwardi (Capital Works Engineer)
---

PROPERTIES IN MULTIPLE PAYING OCCUPATIONS (PMPOs)
AND FLAT CONVERSIONS IN THE VALE
From time to time I receive allegations from residents that houses in the Vale have been converted into flats. Whilst we are always happy to receive information which residents believe infringe the planning regulations it invariably turns out that the planning regulations are not being infringed.

The appropriate regulations are contained in the Town and Country Planning Act 1990 and its associated legislation with which the owners of the properties are bound to comply . Generally speaking where a house has been converted into two flats there is no internal connection between the flats and entry to each flat must be through separate doors. The arrangement is usually that the front hall is divided by a central partition wall and the upper and lower flats entered through two new front doors positioned inside the existing front door. If any resident has evidence that a conversion has been carried out without planning permission I would be grateful if they would inform me or any other officer of the Association to pass on to Lambeth Planning for the Enforcement Section to take action.

Where a house is occupied by a number of unrelated people using the rooms as 'bedsitters' and sharing the kitchen and washing facilities it has NOT been converted into flats. The definition of a house in Multiple Paying Occupation is
'A property in residential use which is intrinsically non-transient and /or permanent or semi-permanent, containing a number of separate households and/ or individuals living independently of each other, with some shared
facilities, but in non-self-contained units'.

I am informed by Lambeth Planning that houses in Houses in Multiple Paying Occupation are houses occupied:
(a) By a single person or by people living together as a family, or
(b) By not more than six residents living together as a single household
(including a household were care is provided for residents)".

Therefore such houses will not be regarded as overcrowded unless there are more than seven people permanently in residence but if residents have information that any houses are overcrowded the Association will ask Lambeth Enforcement to investigate as soon as possible.

I would add that there are now a substantial number of houses in the Vale which are being rented out in multiple occupancy but only a few which have been converted into two self contained flats. Planning applications for these were opposed by the Association. Two of these were refused by Lambeth Planning but the decision was overturned at appeal by a planning inspector.

In conjunction with our local elected Councillors we have put forward amendments to the new Lambeth Unitary Development Plan which we hope will be adopted by the Council later this year which will prevent houses with an original undeveloped floor area of 120sq. metres or less from being converted. This standard will apply to the majority of houses in the Vale, but so far has not been tested before an independent adjudicator from the Planning Inspectorate.
PAUL CHESTERMAN
Environmental Committee

TOPÙ
---
Following the recent pressure on Streatham Vale by developers intent on creating bedsitters and converting houses into flats, I have recently been looking into the targets set for Lambeth by the Government and the Mayor of London in terms of extra housing units and the time in which they have to be achieved. The targets were set in 1997 and the period runs from then until 2017. At present therefore we are eight years into the period.

It is my understanding that Lambeth Council does not agree with the 'London Plan' target figures for housing. Accordingly the targets in the draft Lambeth 'Unitary Development Plan' differ from those in the London Plan. The Greater London Authority and the Government Office for London are objecting to this. Objections to the UDP are now being considered at a public inquiry, which is a statutory part of the UDP process, where there are objections to the Deposit Draft UDP. This is being heard by an independent Inspector and he will consider the case put by Lambeth and assess the Lambeth proposals in relation to the GLA and GOL objections.

The London Plan requires that Lambeth should provide an additional 28,910 homes between the years 1997 and 2016. This comprises of both additional dwellings of a conventional capacity [such as those in the Vale] and accommodation derived from a variety of vacant properties coming back into use such as houses in multiple occupation, care homes, student halls of residence and forms of temporary housing of a non-conventional capacity.

This latter type of accommodation comprises 5,700 (20%) of the total which Lambeth Council considers unrealistic. The Council also considers that the overall additional housing capacity required to be provided in the borough of Lambeth to be excessive and has objected in those terms to the London Plan as did a number of other London boroughs. The Panel that considered the objections to the London Plan recognised this and concluded that, in the light of discussions on the matter, the GLA's Housing Capacity Study (HCS), on which the London Plan figures are based, no longer provides a reliable measure of the capacity for providing new housing in London over the period to 2016, or an appropriate set of targets for Boroughs. The need for a new HCS is now accepted by all sides, and the Mayor has now committed the GLA to an early review of housing capacity on a consistent and coordinated basis. Notwithstanding the Mayor's decision the Panel has agreed that these figures should be included in the London Plan for the time being whilst the new study of housing requirements is being conducted.

The information available to Lambeth on completed properties relates to dwellings and does not extend to homes. Between 1997 and the end of 2004 a total of approximately 6,300 new dwellings has been built in the Borough and the number of households was estimated at 128,000 in 1999.

It was never envisaged that the housing targets would involve the conversion of three bedroomed houses such as those in Streatham Vale. The main expectation of the Plan is an increase in dwellings in the north of the Borough. At present there are a number of large applications in the north of Lambeth where developers can build higher. However the council is objecting to these and this in turn puts more pressure on other areas. We may nevertheless draw modest encouragement from the fact that the Government Inspector upheld Lambeth's refusal of permission for 70+ flats on the site of the former William IV public house adjacent to Hermitage Lane, Green Lane and Streatham High Road, and it remains to be seen what will eventually happen to this site.

The conclusion to be reached from all of this is that the increase in housing units
required would constitute between 20% and 25% of the housing stock in Lambeth on the 1999 figures. In our opinion this is the reason Government inspectors overturned Lambeth Planning at appeal in relation to two recent conversions in Streatham Vale.

Fortunately Lambeth Planning have stated that they will continue to refuse applications for flat conversions in the Vale where the original undeveloped floor area is 120sq. metres or less [95% of the houses in the Vale fall into this category] until the amendments are considered at the public inquiry and it is hoped that the Inspector, after hearing all objections, will agree to the amendments to the new Lambeth UDP put forward by the SVPOA and our local elected Councillors.


PAUL CHESTERMAN
Environmental Committee