ASSOCIATION CAMPAIGN
The association campaigns on behalf of many local causes. Current campaigns include the relocation of the GP Surgery and the opening of the Eardley Road entrance to Streatham Common railway station. We also show you some of the less desirable aspects of the Vale in our Chamber of Horrors gallery.
Eardley Road Residents' Committee
Croydon Tramlink Extension to Streatham
Extension of G1 Bus Route to Streatham Vale
Chamber of Horrors

CROYDON TRAMLINK EXTENSION TO STREATHAM

| | | | | |
| --- | --- | --- | --- | --- |
| | | | | |
| | | | | |
| Tramlink Map | Wellesley Road | Norbury Terminus C1920. | West Croydon | East Croydon |
Last year, 300 residents of Streatham Vale and the surrounding area signed a petition which Valerie Shawcross presented to the London Assembly in December 2005 urging Mayor Ken Livingstone to consider extending the Croydon Tramlnk to Streatham. In presenting the petition, Miss Shawcross stated in the South London Press in December that extension of the Tram to Streatham "would massively improve the local economy by making it easier for local people from, for example, the Norbury area to come to Streatham to shop". She added, "Many local residents travel to work in Croydon and a tram would make commuting easier, as well as opening up access to the large shopping centres in Croydon".
In making this proposal the SVPOA believes :
A. The tramlink would provide added value to the people of Streatham and local businesses. It would support Streatham's leisure activities such as the ice rink and pool and would provide a reliable and efficient transport connection with the new Streatham hub.
B. It would provide a similar connection with Croydon for those wishing to travel there for work, shopping and leisure and would also provide easy access to the Tramlink interchange in Croydon which serves other Tramlink services such as Beckenham Junction and Wimbledon.
C. It will reduce traffic congestion and airborne pollution along its route on the A23 between Croydon and Streatham. In gauging the success of the existing Tramlink, the predicted passenger numbers were 20 million passengers a year after 18 months of operation, taking 2 million car journeys a year off the roads. After only 8 months of operation in the year 2000, passenger figures of 50,000 a day had already been reached. In its first full year of operation 13.3 million passenger journeys were made in the 24 trams that run over the 28km of track. This is about 50% up on the growth of passenger numbers predicted by consultants before it opened. Extension of the Tramlink to Streatham on the A23 is an absolutely logical transport link. On a historical note the previous trams which closed down in 1949 were the mainstay on the Purley – Croydon – Streatham section and lines 16 and 18, once amongst the most successful in London, ran beyond here to Brixton and Central London. We see no evidence that similar potential demand does not exist in Streatham today.
D. At the present time Transport for London have been successful in obtaining funding to take forward the new Crystal Palace extension as announced by Ken Livingstone in his 5 year Investment Plan for Transport announced in 2004. However, if Streatham is ever going to have the Tramlink we suggest it is vital that Lambeth Council should undertake a plan of action now which will draw in support from local people.
E. The Streatham Vale petition is strong evidence that many residents want the Tramlink to come to Streatham and we believe that a similar strong vote in favour would be repeated if such an exercise were carried out in other parts of Streatham.
F. Although we understand that TfL are not actively able to develop new potential extensions at the present time it would nevertheless appear that other Boroughs have been more active in lobbying for Tramlink and there is no time like the present for pressing Streatham's case as actively as possible to bring Tramlink to Streatham after the completion of the Beckenham Junction to Crystal Palace extension.
G. In replying to a question put down to the Streatham Area Committee of Lambeth Council, Council Officers stated – inter alia: "The Council is very much in agreement with the comments above concerning the lack of quality public transport provision in the south of the borough and recognises that Streatham in particular is poorly served. It is a specific policy objective of the Council to improve transport links throughout the borough generally, and in the south, specifically. In the longer term, the Council has an aspiration that both the proposed Cross River Tram and the Croydon Tramlink are extended to, and meet up at, Streatham..... The Council is lobbying, and will continue to lobby, for extensions to the Croydon Tramlink through "South London Trams", a single-focus lobby group set up by the South London Partnership, of which the Council is a paid and active supporter."
The SVPOA will now continue to press its case for support for the Tramlink extension to Streatham with both Lambeth and Croydon Councils, Transport for London and the Greater London Authority.
Our thanks go to Peter Courtenay and the Hugh Taylor Collection for allowing us to use the photographs illustrating this article.

For those wishing to learn more about Trams, past and present the following websites may be useful:

http://ww.trolleybus.net [David Bradley] Comprehensive site on trolleybuses but also contains pictures of trams old and new.

http://www.tfl.gov.uk/trams/abouttrams/index_trams.shtml TfL site on Trams

http://www.lrta.org/index.html Light Rail Transit Association. Has lots of pictures of Croydon Tramlink at :
http://www.lrta.org/Tramlink/tramlink2.html Croydon Tramlink news page http://www.lrta.org/tramlink.html

http://www.croydon-tramlink.co.uk/ the 'unofficial' Croydon Tramlink site. [Stephen Parascondolo].

http://groups.yahoo.com/group/croydontramlink/ Croydon Tramlink discussion forum. [Stephen Parascondolo].


EXTENSION OF G1 BUS ROUTE TO STREATHAM VALE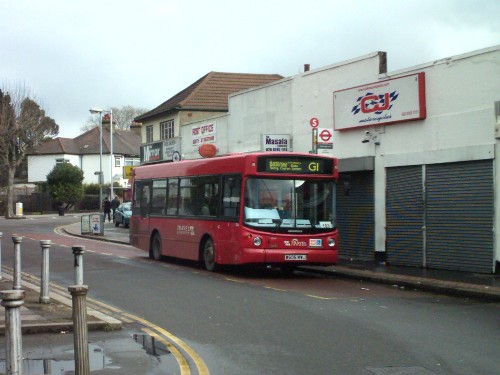 G1 BUS TERMINUS - NORBURY
At the present time, the G1 bus route comes down from Battersea to terminate at Hermitage Lane, Norbury. On its way it stops right at the front door of St. George's Hospital and at Tooting Broadway and St. Leonards in Streatham. We are proposing that, if this route was extended through Norbury to terminate at Streatham Common Station, where it would turn round, it would also provide a valuable direct local transport link with Norbury where a number of Banks, Building Societies and useful shops, which do not exist in Streatham Vale, are situated. In our opinion this would reduce the isolation of Streatham Vale and the difficulty of getting to and from Norbury without walking the length of the Estate.

We are proposing that the route should be extended through Norbury, turning right into Stanford Road, which is an existing bus route. It would then come along Rowan Road through the Vale to Streatham Common Station where it would terminate and turn round. It would thereby also provide an additional transport link connection to the railway at Streatham Common, Norbury and Streatham Stations and would eliminate the problem Vale residents experience of changing at Streatham Garage to intercept the G1 and other bus services on the A23.

To realise this project the Association is working with our local Councillors to persuade Transport for London that this will benefit local people and will improve transport links in the area. The Vale has been forced to rely on only the 118 and the poor service provided by the 60 route which terminates at Streatham Garage for far too long! The extension of the G1 route will provide a valuable new transport link for Streatham Vale which we hope will be achievable in the not too distant future.